What does Beyond Inbox do?
Use Beyond Inbox to Backup, Restore, Transfer, Archive and Organize your email. Beyond Inbox works with any IMAP (Internet Message Access Protocol) enabled email clients like Gmail and Thunderbird.
Backup email for Disaster Recovery
Restore email from backup
Archive email for Record Retention
Transfer email to another account
Organize Inbox
Beyond Inbox comes with a inbuilt feature to backup, copy, move and restore email. This out of the box functionality makes Beyond Inbox extremely flexible, powerful, and an easy to use tool.
The main features of Beyond Inbox are -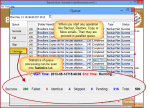 Now whenever any copy, move, download and restore operation is done, it starts in a queue panel where you can see all running and pending operations in a queue with statistics. Now you can experience fast, multiple and parallel operations using queue. You can run number of processes at once in parallel queue that will reduce the time spend in processing. You will get better visualization of operations in queue.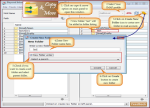 You can create "label" like we do in our mailboxes. To organize mails you can create a new label before copy and move mails from one account to another. Beyond Inbox will automatically prompt to create a new label/folder if the same label does not exist at either end.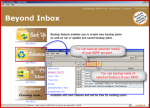 Backup Email
Backup feature allows you to take a backup of email from the "IMAP Account" at the desired path in local.
Backup is categorized in two ways:
Backup selected email of an IMAP account.
Backup email of selected folder(s) from an IMAP account.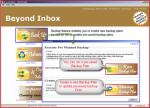 Backup Plan
This feature allows you to plan your backup. Using this feature, you can configure, in advance, what you want to backup and then save the configuration. You can run the saved configuration whenever you desire and the backup will start for all the selected folders at the path which you have chosen while saving configuration.

Incremental Backup
Once you have configured your backup plan, you can use it to take incremental backup of your email. Incremental backup will backup those emails which were not downloaded before or will backup newly arrived email in your account which were not downloaded in previous backup.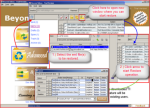 Restore Email
Restore feature allows you to restore the backed up email which are stored at local file system in selected folder of an IMAP account.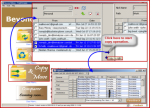 Copy Email
Copy email feature allows copying email from one IMAP account to another IMAP account and their different folders too. On completion of copy operation, copied email will reside in both IMAP accounts. You can copy directly a folder without exploring its email to another IMAP account.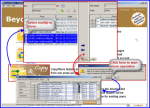 Move Email
This feature allows moving of email from one IMAP account to another IMAP account as well as in different folders of the same IMAP account. Moved email is deleted from the source account and permanently moved to the specified folder of destination account. No need to explore a folder as you can move directly a folder from an IMAP account to another.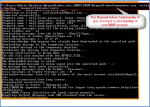 Beyond Inbox Commander
Beyond Inbox Commander is a command line tool to schedule the backup of all folders' email present in an IMAP account. Commander can be scheduled and automated. Automation means that the scheduled operations will be carried on automatically based on the configuration set in scheduler. It also provides a feature to send the report of backup to the specified email account for which you have configured in SMTP Server Profile tag of BeyondInbox.xml file.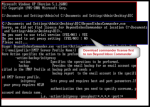 Commander Separate Licensing
Beyond Inbox is providing a separate license for running Beyond Inbox GUI and Beyond Inbox Commander. If you want to use the features provided in Beyond Inbox GUI, then you can use the license provided for Beyond Inbox or if you want to run Beyond Inbox Commander, then you can use the license provided for Beyond Inbox Commander.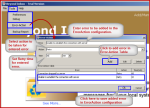 Beyond Inbox Error Handling
Beyond Inbox allows the user to handle different errors while performing any operation. If any error from the server is encountered, Beyond Inbox provides a way to ignore such errors or retry the process after some specified time interval. With that, you can easily handle such errors.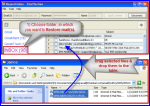 Restore using Drag and Drop
Beyond Inbox allows you to restore your downloaded email from the native file system to an IMAP account using drag and drop feature. On completion of operation, all selected email will be restored in selected IMAP folder.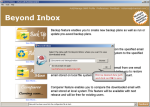 Configure Data path
Beyond Inbox allows you to set data path at startup where your downloaded email is saved and default path is user home. You can also configure this path at Preferences -> General tab.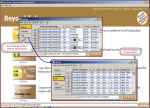 Report for Failed Messages
Now Beyond Inbox has option to view the failed messages to perform the operation. When you perform any operation like backup, copy, move, or restore and any message fails, you will find the information for the failed messages with information of the sender email, Subject, Send/Received Date.